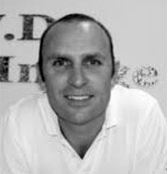 Robert Dulieu spent his childhood on Bondi Beach, Sydney Australia with surfing, sailing and cricket his formative passions. Today, he is a loving husband, and devoted father to his 4 children. Rob is enthusiastically involved in coaching kids rugby, cricket, and 'Nippers' lifesaving.
Rob became a registered Dental Technician in Sydney in 1993, and completed his studies to become a Dental Prosthetist in 1996, all the while developing an interest in dental implant technology.
RWD Dental Image PTY LTD was established in 1993, focussing on Crown and Bridge and Implant work. For its first eleven years the laboratory was situated in Willoughby, Sydney Australia. With growth, and the need to create room to expand and house its increasing technological requirements, 2005 saw RWD Dental Image relocated to new premises in Bondi Junction. RWD Dental Image has gained recognition as a leading Implant laboratory and Centre of Excellence for training groups in ceramics and restorative implant solutions.
Robert works closely with dentists and related professionals on cases on an individual basis, so that the most appropriate solution to each and every requirement can be achieved. This has become the mantra at the laboratory, and the commitment to teamwork, - technician and dentist, is one that is central to the way things are done at his lab. To best facilitate this, Rob attends and holds discussion and study groups within the dental profession on a regular basis.
Robert has spoken on Implant Restorative Solutions and Advanced Ceramic techniques in Australia, New Zealand, Germany, India, and the United States. He has been involved with numerous Australian Ossiointegrated Society programs, and NobelBiocareTM World Tours, and is a regular contributor to Australian Dental Practice and eLaborate magazines. He is currently involved with independent mentor and training programs and has attended a mini clinical residency @ the Malo Clinic Portugal in 2008 with a focus on the All On FourTM edentulous restorative technique.
Robert currently sits on committee for the Eastern Suburbs Dental Group, and he is a member of the Advisory Boards for a major international Implant company, Eden Education, and has recently been engaged as a consultant to the Australian Dental Association post graduate Implant program as well as being a past committee member of the former Australian Commercial Dental Laboratory Association.
Robert is currently in Private Practice with a restricted Implant and restorative focus Prosthetist Clinic and Laboratory.