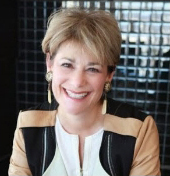 Since 1992, Karen Cortell Reisman, M.S. has taught corporate and association audiences how to communicate, sell, and thrive.

Across North America, China and Europe, Karen's audiences have increased sales, enhanced productivity, and become better communicators.

Karen would have been her high school's Valedictorian if it weren't for a B in Home Economics due to lumpy blueberry muffins. But, she hasn't stopped speaking since.

Karen puts on a one-woman show using letters her cousin, Albert Einstein, wrote to her family in an inspirational message about resilience. She helps her audiences learn how to: type" thinking to grow their business a competitive edge E=mc2!

Karen also speaks about how to Speak For Yourself® so that others listen, trust, and buy from you. Speak For Yourself® programs and coaching teach audiences to: rofitability

Karen is the author of 2 books, a pithy blog, and numerous articles for national magazines. She's also a frequent guest on a nationally syndicated radio program.

Dental clients include: The Yankee Meeting, The Chicago Midwinter, Texas Dental Association, The Pankey Institute, and The Seattle Study Club. Karen has also coached many dentists on communication and presentation skills.

Corporate clients include: The American Heart Association, Environmental Protection Agency (EPA), Pizza Hut, ThyssenKrupp Elevator, Elk-GAF, Intuit, Sprint, and Deloitte Touche.

Karen has one bachelor's degree, one master's degree, one cow named Bliss, one daughter, one son, and one husband.