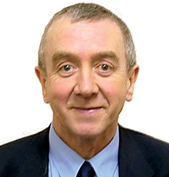 Professor Dr. J. Fraser McCord graduated from Edinburgh University in 1970. After 10 years in dental practice, he returned to the uniiversity as a Registrar in Restorative Dentistry and in 1983 was appointed a lecturer in Prosthodontics. After gaining his doctorate in 1986, he was appointed Senior Lecturer in Restorative Dentistry, University of Manchester in 1989 and to the Chair of Restorative Care of the Elderly in 1992. From 2002-2004, he was Dean and the Clinical Director of the University Dental Hospital of Manchester. In 2006, he was appointed to the Chair of Restorative Dentistry at the University of Glasgow Dental School.
He holds the FDSRCS (Edinburgh, England and Glasgow) and is an Honorary Fellow of the College of Dental Surgeons of Hong Kong. He was Chair of the Advisory Board in Restorative Dentistry (RCS ED) from 1995-2005 and Chair of the Inter Collegiate Specialty Board in Restorative Dentistry from 2002-2005 and the President of the British Society for the Study of Prosthetic Dentistry from 2005-2006.
Professor McCord has long standing interest in the treatment of edentulous patient. He is also interested in dental implantology, outcomes of treatment, mucosal fungal infections and dental technology. Strong clinical links with NHS Scotland in the Glasgow Dental Hospital and Outreach Centres have provided a strong emphasis for patient driven research. Professor McCord is also actively engaged in collaborative research projects with an emphasis on formation of biofilms to denture base materials. He has written 8 books and 5 books reviews in academic journals, published over 100 research/ review articles in Scientific Journals.
Professor McCord has received several awards during his 40 years services in clinical dentistry which included Rankie Bequest Scholarship to Perth, Hermann Research Fellowship, University of Western Australia and Gold Medal of the British Society for the Study of Prosthetic Dentistry.