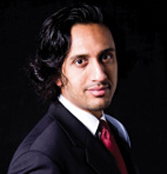 BA, LLB(Hons), MA (Forensic Psychology), DPsych (Melb), MAPS
Dr. Hussain is the Managing Director of Psylegal a boutique psychology practice specialising in working with professionals. Dr. Hussain is trained both as a lawyer and a Clinical Psychologist and has extensive experience working with legal and health professionals specialising in stress management and treating anxiety and depression as it effects the work-place, with a view to enhancing work-place performance, personal well-being and job satisfaction.
More recently he has developed a Metacognetics™ program specifically for professionals that addresses stress reduction in the work-place using a combination of cognitive and mindfulness based techniques. Metacognitive training has been used with a wide variety of professions including medical, law enforcement, legal and corporate.